About Remote Backup Organizer®...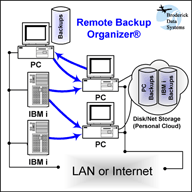 Remote Backup Organizer® is a product that will automatically back up your files to other systems. You specify the files to backup, the systems to send them to and when to back them up.

Product Features
Automatic Backup - Your files will be backed up automatically at the day and time you specify.
Send & Receive from Multiple systems at once - All transfers can be occurring at the same time.
AES (Industry Standard, Strong) Encryption - Remote Backup Organizer optionally encrypts its data for:

All Data Communications
File Disk Storage

System & User based Security - Users and Systems must be authorized by you.
CRC data integrity checks - CRC checks/retries are performed during the following tasks::

File Data Communications
Disk Operations

Polling - If the other system is unable to contact the local system, the local system will periodically contact it to check for backup requests.
Backup Options
The user can define multiple Backup Specifications, each describing the following options:
Schedule - Specify the time of day, and one of the following categories:


Daily: Every day at the scheduled time.
Weekly: Up to seven days of the week.
Monthly: One or more days of the month, at the scheduled time.

File Selection - Each Backup Spec can have one or more File Selection Specs, each describing a file or directory to back up. Generic file names and include subdirectories option can be specified.
Retention Period - Your backups can be deleted automatically at the time you specify.
Remote System - The System which will receive the backup files.
Display and Restore Features
Remote Backup Organizer allows authorized users to display and restore files.
Display Backup or File Properties
Restore all files or a subset
Restore to a different location
Display Backups on Remote Systems
Authorized users can display the backups that reside on other systems. Any direct connected system polling system can be queried.
Display Backups on Local System
Authorized users can display the Backups that have been sent to the local system by other systems.

| | | |
| --- | --- | --- |
| Download FREE Trial | | Have A Question? |